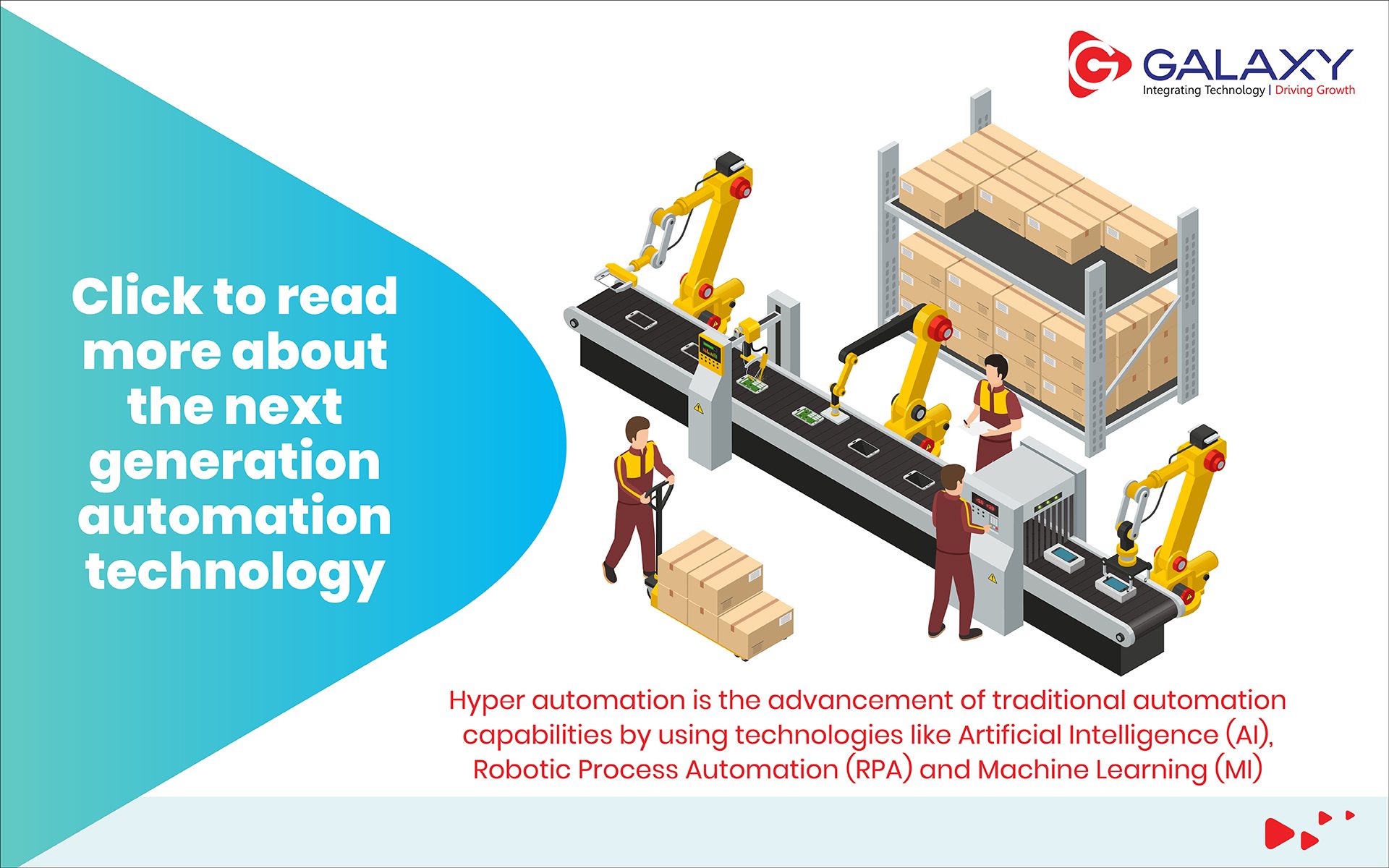 Technology today has changed the elementary facet of our lives. With urge for a stronger and better internet connectivity, digitization of processes has led the world to move towards automation. That wasn't enough and thus the new buzz word Hyper Automation.
Hyper automation is the advancement of traditional automation capabilities by using technologies like Artificial Intelligence (AI), Robotic Process Automation (RPA) and Machine Learning (MI) to automate processes. Basically, hyper automation is a combination of automation tools to increase AI decision making. Hyper automation is the future of RPA of replacing human actions required for digital tasks. Gartner says that multiple tools are needed to replace the work that a human can do, and thus hyper automation combines all the automation efforts under a single umbrella.
Hyper automation is a prodigious tool to uplift the business. Businesses can benefit immensely from hyper automation in following ways:
Decrease human effort by doing lot of work in less time
Reduces risk of human errors
Increases productivity and output
Execution and implementation of automation is tough and complicated. It creates new challenges for the businesses with how the IT environment is controlled. Automation is present in every step taken in companies such as device connectivity, collecting data, extract valuable data from business for analytics and present it to stakeholders for business profits. Automation is an underlying layer and thus judgment calls to identify the scope of automation are required before implementation. Thus, Gartner defines hyper automation important when constructing IoT devices.
Hyper automation will continue to expand, and companies need to focus on automating complex processes resulting in end-to-end solution. Amazon and FedEx are the top companies that has used hyper automation to intensify customers experience and execute piece of work related to logistics.
The implementation of automation results in a digital twin of an organization (DTO). Digital twin is a concept about creating digital representation of connected IoT devices managed by a single tool. Hence instead of giving access to different IoT devices, digital twin can be presented to stakeholders. Digital twin helps in predictive analysis of organizations assets leading to efficient functioning of business. With this concept businesses can eliminate problems before they occur to prevent failures. DTO are designed to work consistently and continuously. The data collected in this process is analyzed continuously and saved in cloud. This results in accessing data instantly for various business analysis. It also enables users to resolve issues from any remote location.
We've previously discussed how RPA will be effective for the productivity of the business. Soon automation will be important for every company. But without being aware of where automation is required in business and following the trend, implementing it would be a disaster. Hyper automation is both a blessing and a curse. So, it becomes important to firstly identify areas for automation. Employees in company should also be trained to make most out of automation and not think it as a danger to their job.
Companies are competing to future proof their business by implementing intelligent, robotic and automation systems. For hyper-automation in every facet of business it requires continuous and optimal blending of human and machine capabilities.
In a short span of time expansion of hyper-automation has inspired companies to eradicate manual operations quickly to use human force in other more important areas of business. If you're still not in the game, then you're definitely missing out on opportunities of expanding your business.
So, is your business ready for hyper automation? If not, what other automation technologies are you currently engaging? What benefits have your business reaped?
Please write to us at marketing@goapl.com
FOR A FREE CONSULTATION, PLEASE CONTACT US.
Comments are closed.