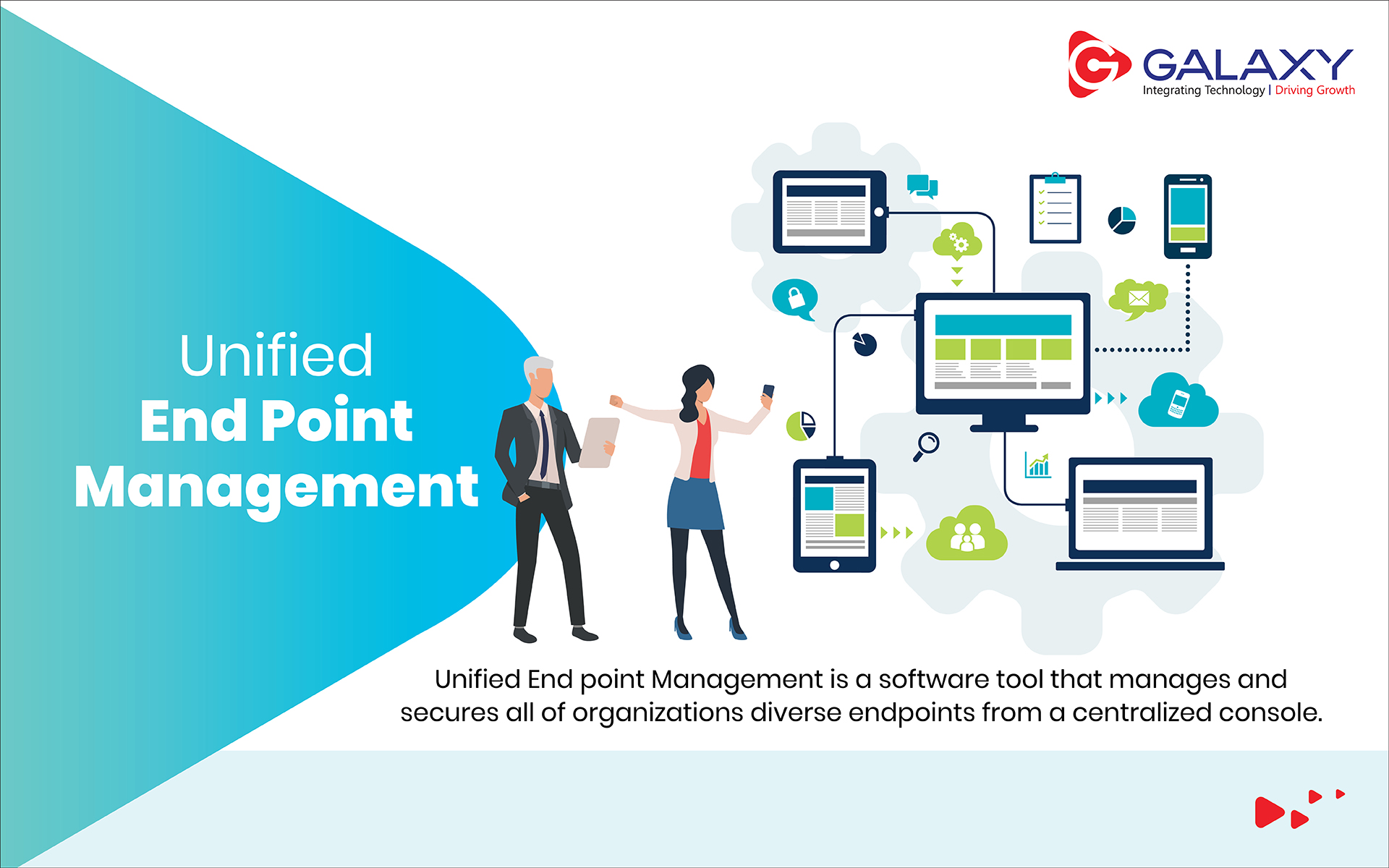 Information Technology today has become an vital part of businesses today as it is not only fueling the business but also enhancing the way you treat your customer. System administrators work around the clock to maintain & manage complex infrastructure which builds base for any business. Every business these days uses huge number of devices such as laptops, routers, printers to barcode scanners. This enables the flexibility to work from anywhere, anytime on any device. Earlier when the need was only to manage desktops, conventional Client management system was used. But with the increase in devices, enterprise mobility and BYOD(Bring-your-own-device) these tools couldn't fulfill the requirements. Keeping track of all these endpoints manually became a challenge. The answer to this challenge is Unified endpoint management.
So what exactly is Endpoint and Unified Endpoint Management(UEM)?
Endpoint is a node or device connected to LAN/WAN that communicates back & forth across the network. An endpoint can be a hub, switch, modem, host computer or server. All these endpoints should be located into the business network and must be timely maintained by software updates. Unified Endpoint Management is a software tool that manages and secures all of organizations diverse endpoints from a centralized console. Unified Endpoint Management  is the amalgamation and advancement of Client Management Tools(CMT), Mobile device Management(MDM) and Enterprise Mobility Management(EMM).
Components of Unified Endpoint Management(UEM) :
Client Management Tools(CMT) are used by desktop support organizations to automate system administration such as inventory management, software distribution and usage monitoring.
Mobile Device Management(MDM) is a security software that helps managing mobile devices. MDM stores information about device enrollment, support of applications management, device lockdown, authorized data access, location tracking, mobile policy management and telecom management.
Enterprise Mobility Management(EMM) offers all the MDM features and allows organizations to securely enable employees use of mobile devices and applications.
Basically MDM helps manage MacOS and Windows 10 using APIs but it fails to aid conventional desktop applications. Here CMT can help. Some organizations have converted their MDM into UEM solution, keeping MDM workflow as their base. And others have modified their client management approach and framework to adapt to the UEM market.
Key Highlights of UEM :
Manage multiple endpoints on different platforms(iOS, MacOS, ChromeOS, Linux, Android, Windows and more) from one single console
Reduces IT management cost
Enhances IT security
Enhances visibility over network devices with end-user support
Onboarding of BYOD(Bring your own device)
Enables better business decisions
Excludes patch work for root of a problem as analysis of devices becomes easy
Business needs to change their approach from devices to users to better understand endpoints and user requirements. This is possible only when IT workers know their network, conditions and solutions of any problems. With multiple tools(EMM, MDM, CMT) available managing single endpoint, creates lot of havoc in automating a process.  With implementing UEM, IT workers can manage user demands priority-wise. Everything gets streamlined and consistency can be achieved by relying on reports generated from UEM.
In couple of years, Gartner forecasts majority of enterprises will switch from CMT, EMM or MDM to UEM solutions. Businesses needs to realize their demand of network requirements, number of devices to be used including IoT devices and desktop devices. According to that they can decide upon the solutions from vendors offering similar features and decide which is best fit for their enterprise. UEM offers business to control all the endpoints, regardless of operating system or device category. Businesses who do not have plans to deploy a UEM solution must know that the clock is ticking and they should get-up-and-go to implement this as their priority.
So what are your plans for unifying the way you operate ? Let's discuss soon !
FOR A FREE CONSULTATION, PLEASE CONTACT US.
Comments are closed.