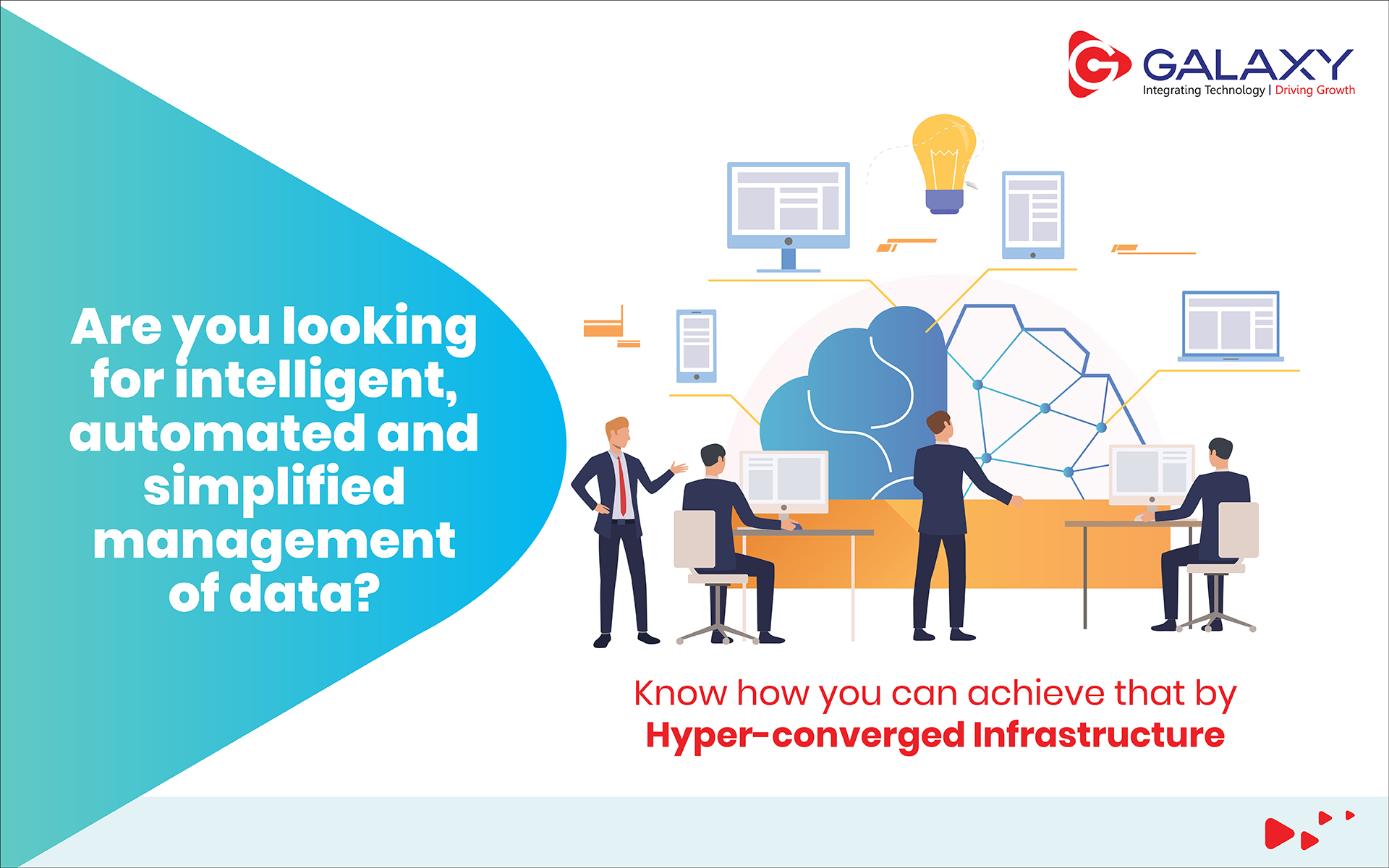 Are you looking for intelligent, automated and simplified management of data?
Know how you can achieve that by Hyper-converged Infrastructure.
What does Hyper-converged Infrastructure mean?
Hyper-converged infrastructure is a prototype shift that tightly integrates storage, computes, networking and virtualization resources in a single system. Thus, reducing infrastructure complexity and enhancing scalability without compromising on performance. Hyper-converged infrastructure can also be termed as Hyper-convergence.
There are many benefits of this tightly integrated node infrastructure, but the primary reasons for organizations switching from complex infrastructure to the simplicity of hyper-convergence are lower costs, consistent performance, and flexibility. Things that Hyper-convergence can do:
Cost-Efficient 
Data scaling is the biggest challenge that organizations are facing today. Hyper-convergence is modeled to avoid frequent purchases of infrastructure every few years. Low costs hardware is used to scale the data center that can be easily managed. Expanding HCI is as simple as just adding the IT resource. Integrating components reduces storage use, power use and lowers management costs. HCI data center costs become less as there is lesser equipment to purchase and manage. Companies can start small and grow resources as needed.
Staff Efficient
As everything gets folded into a hyper-converged environment, recruitment needs of the organization change. Instead of having specialist staff for each resource area, infrastructure specialist can be recruited.
Data-Efficient
Because all the components are working together, the management of tools can be achieved from one console. There's constant pressure on the IT department and data centers to deliver predictable results. When multiple applications share the same infrastructure, it's possible that the performance of one application can hinder the performance of others. HCI's performance settings eliminate resource contention and variable application performance. It also improves data efficiency by deduplicating data which leads to an increase in storage capacity and network bandwidth.
Data Protection
In a traditional data center, data protection is both complex and expensive. It is required to purchase expensive hardware to protect data. However Hyper-converged environment comes with built-in functionalities like data backup, recovery, and disaster recovery. After all hyper-convergence is all about simplifying infrastructure.
Performance Efficient
Hyper-convergence allows organizations to deploy workloads and many kinds of applications to enjoy high performance. HCI uses fast CPUs and SSDs storage devices. The environment handles all CPU and memory capacity so that instead of focusing on individual resource needs administrators can focus on applications.
Multi-cloud Support Efficient
Hyper-convergence simplifies a hybrid cloud environment and lessens transitioning time and cost. Data & Applications can be moved easily between servers and the public cloud.
Data grows by 40% every year, in 2019 it has reached 28,000 exabytes.
With data growing at that speed, organizations need additional challenges to keep up with the infrastructure updates. With the Hybrid cloud being used endlessly,3-tier infrastructure cannot fulfill all the IT needs. Hyper-converged infrastructure is designed to deliver simplicity, higher automation, and scalability than converged infrastructure. Investments in the Hyper-converged environment has increased in recent years. Hyper-convergence is a good choice for those organizations that uses virtualization largely and having difficulty to cope up with the cost that is required for data storage and protection. With the technology in the right place, organizations will no longer need to rely on different computer or storage systems. They can rather invest their time and human resources on operational aspects than on maintaining infrastructure. 
Hyper-converged infrastructure is a bundled software model with potentials like data compression, data protection, data optimization, data deduplication, backup, and recovery. It is an integrated hardware and software package implemented and sold by a single vendor. Thus it requires less installation and configuration.
As per Gartner, 20% of organizations that are currently using 3-tier infrastructure will transit to hyper-converged infrastructure by 2020.
Hyper-converged infrastructure is the future. It centralized all the hardware needs in a single console. It is flexible and uses a pay-as-you-grow model when organizations need to expand.
Given the above-mentioned benefits of hyper-convergence, are you ready for this evolution? Have you already moved to the hyper-converged data centers, share your thoughts on this IT infrastructure solution!
FOR A FREE CONSULTATION, PLEASE CONTACT US.
Comments are closed.