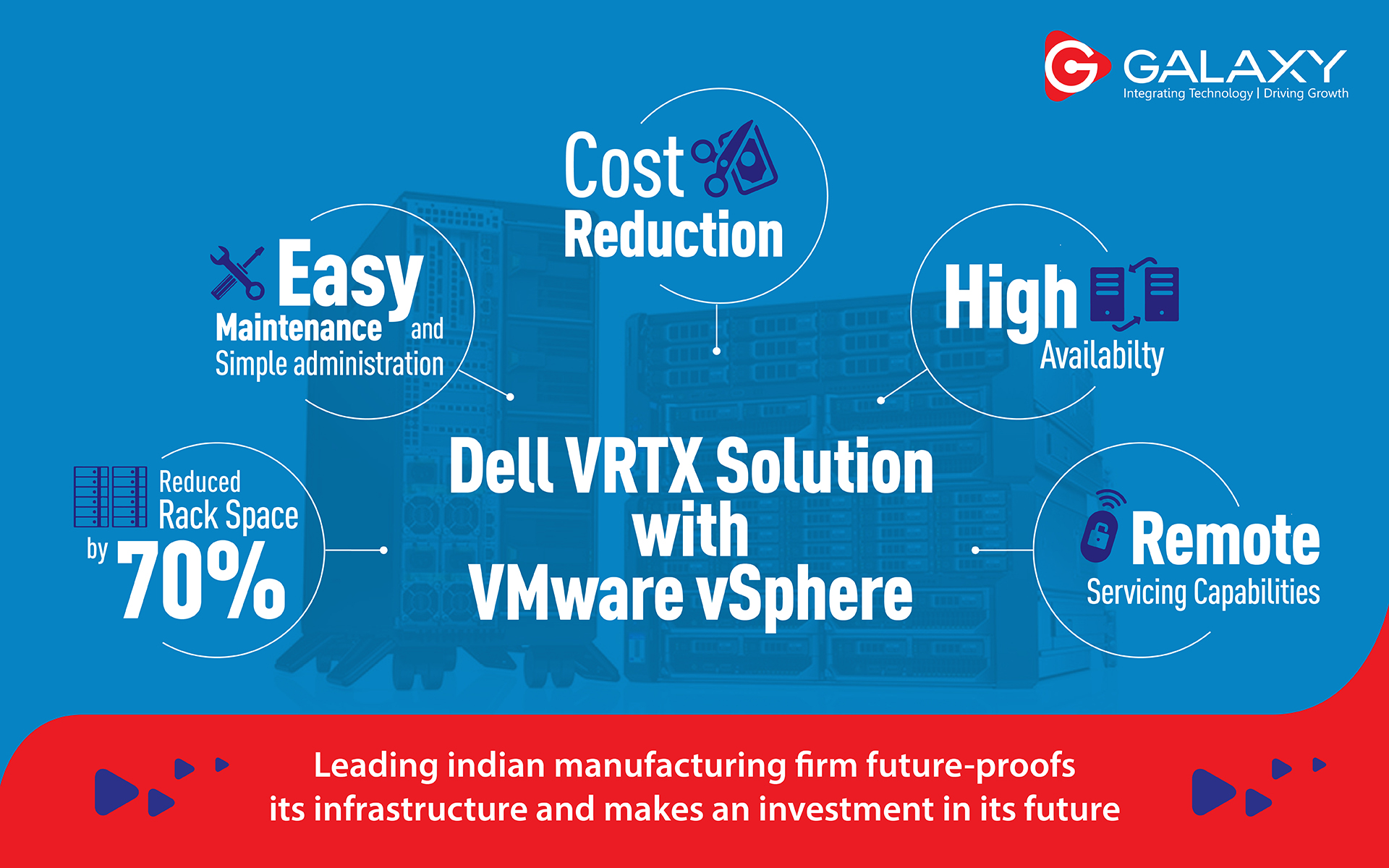 LEADING INDIAN MANUFACTURING FIRM FUTURE-PROOFS ITS INFRASTRUCTURE AND MAKES AN INVESTMENT IN ITS FUTURE
The customer is a leading manufacturing company in India, ranked among the world's best regarded firms compiled by Forbes. With its storage & network systems reaching end of life, the client was keen on refreshing the DC Equipment at their Plant in Ganjam, Odisha.
Following were the challenges present:
Provide a simple and robust solution with reduced IT management & administration effort
Reduce rack space requirements at Client's Datacenter
Have new services up and running while ensuring minimum downtime and maintaining a Business Continuity Plan
Work on limited timelines to implement the new solution
New Solution Deployment:
Galaxy along with Dell proposed VMware Virtualization solution on Dell VRTX chassis and Blade servers. The proposed solution not only meets the client's existing storage needs, but will also continue to create value for years to come.
Dell VRTX Solution is a unique offering from Dell for Datacenters of the Client's ROBOs that create and use Data. Dell VRTX is built of customizable modules of compute, storage & networking while being tightly integrated with VMware vSphere, providing one complete solution in a Box.  Alongside the VRTX, Galaxy also proposed Dell EMC DPS solution for Data Backup.
Senior Technical personnel from Galaxy provided HLD / LLD & Implementation of the solution based on Customer's requirement within 15 days.
Customer Benefits:
The new virtual environment has enabled the Client to reduce rack/floor storage space by 70 %
Considerable cost-reduction benefits through easy maintenance and simple administration
Reduced complexity of integration with different Hardware / Software components
Increased productivity as solution is very high in availability
Remote service capabilities with a single vendor for call logging and breakdown if any.
FOR A FREE CONSULTATION, PLEASE FILL THIS FORM TO CONTACT US.