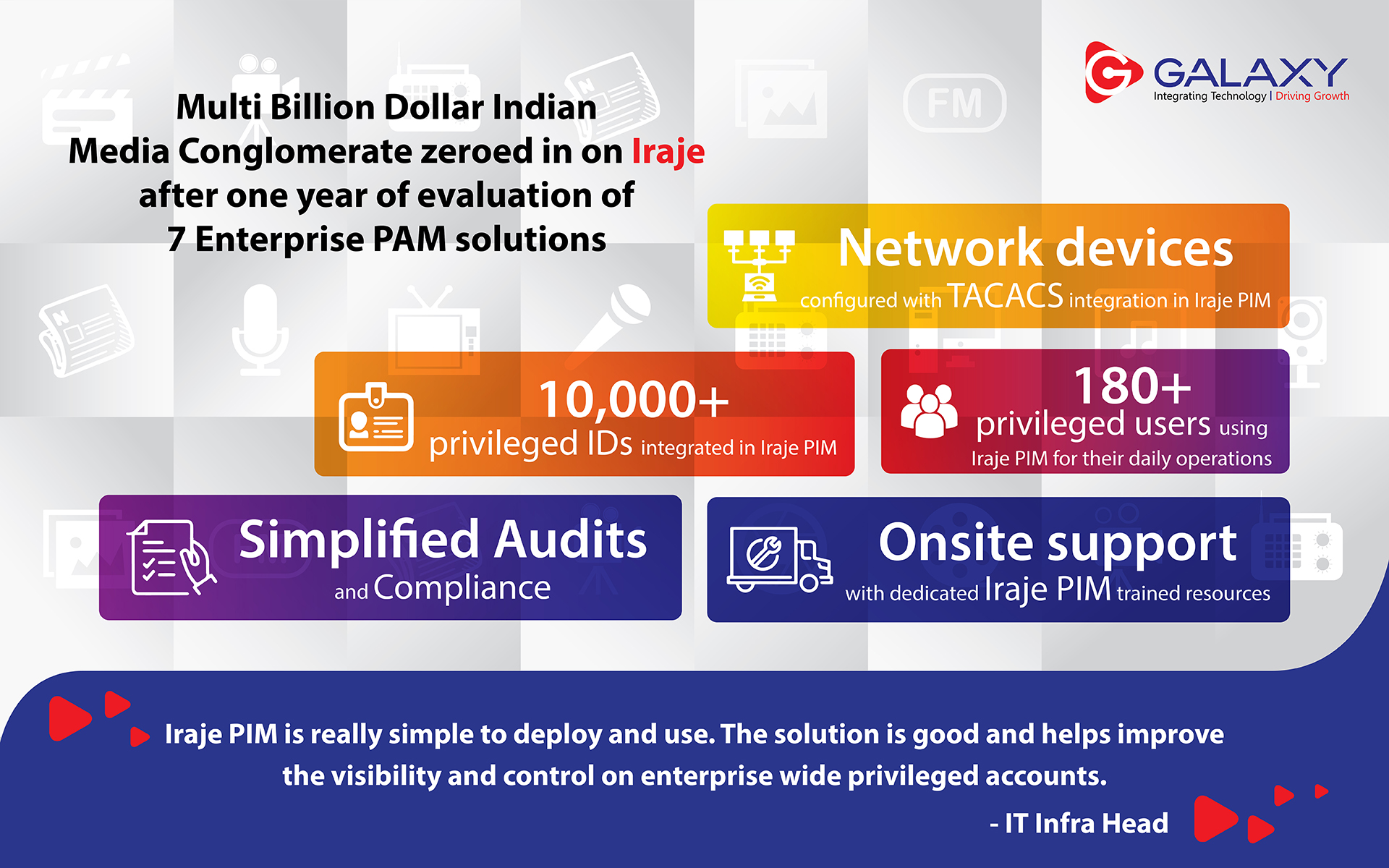 Multi Billion Dollar Indian Media Conglomerate zeroed in on Iraje after one year of evaluation of 7 Enterprise PIM Solutions
What's interesting about this project is the sheer number and size of the customer and the way the solution leads with the customer.
With a mighty 180+ years of presence, vast geographic spread and distributed infrastructure, the client faced unique challenges in managing privileged credentials of core systems. The organization had limited visibility and control on privileged accounts. A thorough due-diligence performed by the client led them to Iraje PIM Solution to meet their global security compliance requirements.
Iraje PIM was implemented in straight 2 months with full active setup for DC, facilitating the best security practices around privileged users and privileged accounts. The solution integrates all enterprise assets from servers, databases, routers, switches, firewalls and browser consoles, whilst integrating network devices configured through TACACS. This has enabled our client to formulate password enforcement of devices including TACACS devices, so they can not only seamlessly monitor privileged access, but also simplify audits and compliance. A dedicated PIM team of trained resources provides onsite support to ensure robust functioning.
Benefits at a glance:
10,000+ privileged IDs integrated in Iraje PIM
180+ privileged users using Iraje PIM for their daily operations
Network devices configured with TACACS integration in Iraje PIM
Onsite support with dedicated Iraje PIM trained resources
Simplified Audits and Compliance
FOR A FREE CONSULTATION, PLEASE FILL THIS FORM TO CONTACT US.