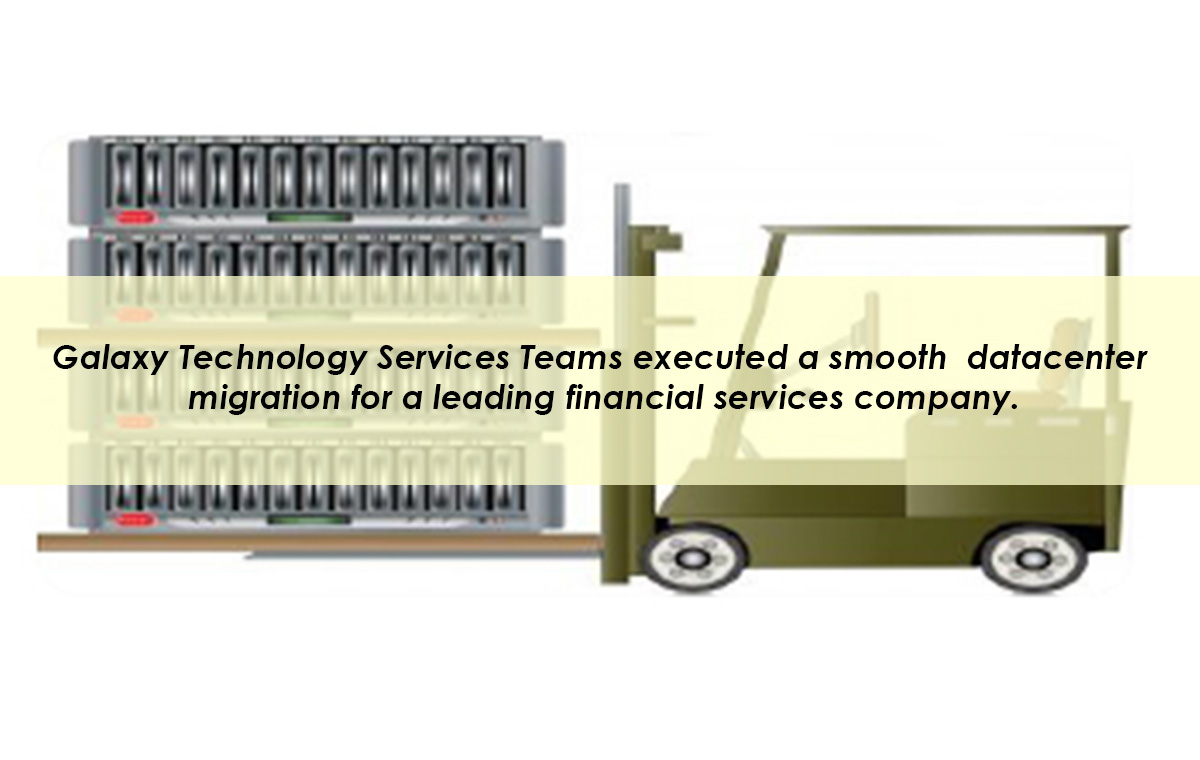 The Challenge
Migration of all systems and Data with minimal downtime from one datacenter.
Client lacked the expertise and experience to conduct a migration of this size internally.
Existing Production Data Centre existed in its current state, lacking standardization, efficiencies & growth scalability & unable to meet end to end level objectives.
Existing Production center had obsolete facilities infrastructure either in terms of high power consumption, a large chuck of legacy / unsupported equipments, or poor availability benchmarks.
Setup Details:
Mumbai (Site-A): VMAX with 40TB(Production)
PUNE (Site-C): VMAX with 40TB (DR)
MAHAPE (Site-B): New site to be setup (New Production)
The Solution
Project and Vendor Management
System Design and Installation
Storage Design and Migration
Relocation of existing Production(FORT, Mumbai) to new DC (MAHAPE, Mumbai)
Results
Successful Migration, test and turn up.
Project completed on schedule and within budget
Significant operational cost savings
Zero unscheduled downtime of systems
A highly available and redundant systems architecture
Migrated 26TB data across datacentres from dissimilar storage subsystems and cutover to new storage at new datacentre with zero data loss
Migrated 94 servers comprising of Wintel and Unix across datacenters.
Setup Racks and power systems with passive cabling with unique colour coding in 1 week migration
Storage Migration Methodology
Step 1: Set up new VSP G Series and virtualize existing VMAX
Step 2: Set up Remote Replication from FORT to PUNE(*subject to replication performance. If performance is not good, would need to do VM from external to internal)
Step 3-4: Create Local Clone in PUNE and create Remote replication from PUNE to MAHAPE
Step 5: Zone DR host path to VSP G800 (*break SRDF) and configure PUNE to test access DR using Local clone copy
Step 6-7: Shutdown FORT servers (by Applications) and boot up DR using Local Clone
Step 8: Relocate Fort Servers to Mahape and activate the servers
Achievements:
Our services enabled clients to achieve the following goals:
Move dependent applications and equipment together
Meet critical application availability requirements using specialized data migration techniques
Reduce cost and improve operational efficiencies by centralizing the IT environment
Limit risk by leveraging the skills of the agency, experienced Galaxy relocation practitioners, and third parties
Allow IT operations to focus efforts and resources on more critical operational areas
Our data center migration service supported planning and execution of moves for applications, data, IT equipment (such as servers and storage arrays) and the data center infrastructure (such as racks and power systems). These services can helped customer move from one data center to another data center.
For a free consultation, please fill this form to contact us.